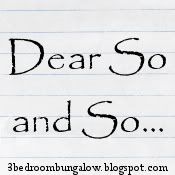 Not done this for a few weeks, but thought I'd do it now that Kat's back at
3 Bedroom Bungalow
after her trip home. So, let's get down to some serious catharsis...
Dear urban planners,
Just who had the idea to shut the shortest of stretches of road with little warning, requiring the biggest diversions? First, I have to detour taking Monkey to his football on Monday (and now divert every day) then I go to take him to swimming on Wednesday and found another, requiring a 3 mile diversion. I know you want nice smooth roads - and God knows, so do I - but seriously? Are you out to annoy me or sommat?
Yours frustratedly,
Kate
Dear Asda,
Yes, it's me again. I've only been to the store for top up shops recently. You want to know why? Yep, that's right - no cafe! Please, please, please - how much do I have to beg before you put one back in? There must be plenty of mums with babies that don't go there because feeding is not easy. Or hungry kids. Or just hungry. Or thirsty.
Please sort it out. Pretty please?
Yours even more thirstily,
Kate
Dear children,
When we say "Stay in bed in the morning", that's what we mean. We don't mean "Get up to go to the toilet and then go wake up your sibling, even at 4am". There is a reason you're tired and it ain't anything to do with me.
Love,
Mummy
Dear Facebook,
Stop messing around with things, and pretending they're "enhancements". And no, I don't want to show all my photos and personal information to the whole frickin' world. Oh, and you're not Twitter, ya hear?
Sort it out,
Kate
Dear Twitter,
I love you just the way you are. Please don't try and turn into Facebook. You aren't and you never will be. You do it so much better than them. New "features" should be added advisedly and only if it REALLY enhances your users' experiences of it. And I can't wait for your new data centre,
Yours hoping I don't see the fail whale again,
Kate
Dear Onken,
Coconut Yogurt. OMG! I love it. And you. But I hate you - I want to eat all of it in one go and I'm trying to lose weight. Can you not do smaller tubs?
Yours lasciviously,
Me
And finally......
Dear blog readers,
Thank you. I was really worried about publishing
this post
with pictures and all on my blog. But I did and you made such lovely comments, both on here and on Twitter, that I'm so glad I did.
I love you all,
Kate x