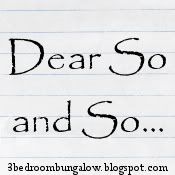 Dear nursery staff,
Thank you so much. Missy Woo has had a ball there for the last 3 and a bit years and Monkey had a great time too. We're all going to miss you but we're going to pop back to say hello for Missy Woo to show off her school uniform.
Hope you liked the cake, Monkey and Missy Woo's Mummy.
Dear children,
I am going to miss you when you go away tomorrow. No, really, I am. It's just you sneaking out of bed early and trashing various rooms of the house that I won't miss. And the noise. And the constant demands.
Be good children now for Granny and Grandad.
Lots of love, Mummy
Dear dog owner,
If you notice my child freaking out because of your dog, even if it is on a lead, please attempt to move away from or avoid said child rather making it worse by marching towards the small whirl of arms, legs, screams and red face with dog. Don't make it worse or I'll need your address to send you the therapist's bill.
Yours not-so-faithfully,
Kate
Dear Daily Mail,
I really do wonder. Changing copy to put words in my mouth and then not allowing me to comment on the
article online
. Hmm. And you're the ones that bang on about freedom of speech, and the Big Brother culture. Pot. Kettle. Black!
No love, Me.
Dear blog readers,
You, on the other hand, have been wonderful (again)
(see comments). Your support means the world to me. I'm going to stop banging on about it now or your collective heads won't get through the door.
Love and kisses*, Kate.
Dear Josie, Sian and Eva,
The very best of luck on your
Blogladesh
trip.
Safe journey, Kate.
*Kisses are non-transferable and non-redeemable as real kisses. I'm not kissing the bloody lot of you!