I'm writing this post in response to a new challenge out there in Blogland called Oui Chef! on the Beckicklesie blog, written by the lovely Beckickles and her other half, Cheffy Daddy. It's a challenge about, obviously, food, and entrants earn points to ascend through various levels.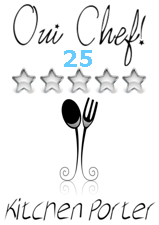 This month's prompt is "Mum's Cooking". Now, this is not that straightforward for me as my mum is not one of the world's great cooks. If anyone did "proper" cooking in our house, it was my Dad. Mum did the basics but didn't really like cooking. It stemmed from a thyroid condition that she had before I was born, which took away her appetite. She found it easier to eat if someone else cooked for her so Dad did. By the time I came along, my Dad often worked late into the evening to repay a loan so Mum had to cook. Nothing fancy - mostly mince in its various forms, the odd roast, rissoles and stuff out of packets like fishfingers.
There is, however, one thing that Mum could make. She wasn't a big baker but she made coffee cake from time to time. It was just a Victoria sponge with coffee added, with coffee buttercream icing. As kids, we would obviously get to lick the bowl and the taste of the sponge mix with coffee added was divine.
I decided to recreate mum's sponge on a whim this evening but I decided to do it the quick way as an all in one sponge. For each large egg, you need 2oz (55g) of soft butter, self-raising flour and caster sugar. To make an 8-in sandwich, you need about 3 eggs, so you need 6oz (170g) of each. After sifting flour in to a bowl, adding in a rounded teaspoon of baking powder and a couple of teaspoons of instant coffee, you add all the other ingredients to the bowl and mix, preferably with an electric hand mixer. It takes about 1 minute, longer if you are having to use a manual whisk or spoon . If the mixture easily drops off a spoon, its fine, but if it's too stiff, add in a couple of tablespoons of milk or water to loosen it until that consistency is reached. Then divide the mixture between two greased and paper lined sandwich tins, level the tops and bake at 170 C / 325 F / Gas mark 3 for 30-35 mins until the mixture springs back when lightly pressed. Leave them in their tins for 5 mins before removing and leaving to cool on a rack completely.
I tasted a bit of the cake mix when I was making this, and was transported back to my mum's tiny kitchen - it tasted exactly the same. This cake must have been my first experience of coffee as a child, and I just thought coffee was sweet like the cake mixture. Well, I guess it was in those days - everyone had sugar in their coffee!
Onto the icing. I dissolved a couple of teaspoons of instant coffee in a little bit of hot water whilst the cakes were baking so that it could cool down to use in the icing. Then I just mixed 4oz (115g) of softened butter and 8oz (225g) of sifted icing sugar together then added the coffee mixture. Half was used to sandwich the cakes together and the rest spread on top of the cake. Mum used to add walnut halves sometimes but I hadn't got any in. Excuse the picture - I took this on my phone, which has no flash. Yeah, yeah, I know - rubbish blogger.
My verdict? Just like Mum used to make! This is pretty close to her version. Whenever I have coffee cake, as it's an option I frequently choose, it always reminds me of my childhood. This
is
Mum's cooking.